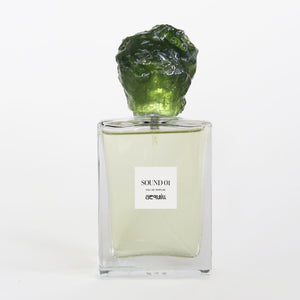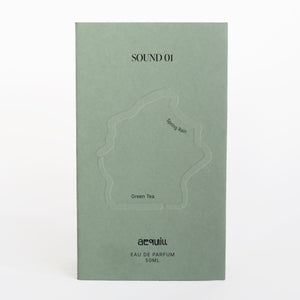 SOUND 1 - Eau de Parfum
Regular price
Sale price
$163.00
Tax included.
---
Spring rain sounds softly

Inside the steam is rising

A sip of green tea

Listening to spring rain fall softly on a window pane, hazey green tea brings serenity and comfort. 

This scent envelopes the wearer like a gentle spring rain. Fresh juniper floating above a soft heart of honeysuckle and cardamom, anchored to earthy grasslands of vetiver.

Notes:  Top; Juniper, Mandarin, Grass, Pepper

Middle; Honeysuckle, Cardamom, Orange Blossom

Base; Vetiver, Amber, White Musk.
Meet the foremost in refreshing, uplifting fragrance: our brand new Green Tea Perfume.

Evocative of a lush green world, this unique green tea fragrance offers an incredible range of sparkling flavours that lean themselves to freshness; this is an eau de parfum that will revitalise, refresh, and embolden, inspiring you through every moment you live within.
This latest addition to our range of perfume, a gorgeous green tea scent, is designed to serve as a light, gentle, uplifting eau de parfum that is wearable, layerable, and subtle, with a constant underlying fresh scent that is bound to make it the go-to day-to-day scent from your collection. With a light, cool, subtly citrus fragrance family and middle notes that are reminiscent of a lush green world, this perfume offers not only a lovely fragrance, but an uplifting one.
This stunning new scent is a harmonious blend of natural ingredients, providing a freshness that makes it incredibly easy to wear year-round: both on its own during the warmer months, and layered with deeper base notes like musk through autumn and winter.
The green tea scent is well-acknowledged as a gentle, fresh, and invigorating scent, and it's for this reason that it lends itself so well to refreshing the senses and inspiring movement, laughter, and above all, joy.
Our green tea scent is designed to make your body feel awakened, your spirit refreshed, and your mind invigorated: we hope it inspires, revitalises, and nurtures you as much as it has our team. Go forth and sieze the day!
As with all Aequill products, our perfumes are designed by our expert in-house perfumers with a 100% custom blend of scents, and packaged in-house at our London studio, in eco-friendly, sustainable packaging.
Whilst there's no wrong way to wear any of our Aequill scent (or any eau de toilette or eau de parfum at all!), we'd recommend applying our green tea scent across all pulse points and in your hair, as standard, which will allow for the fresh scent to waft delicately as you move throughout the day.
A reminder: your pulse points are not just your wrists and neck: it's a good idea to apply perfume to your inner knees and elbows, too, to help prolong the scent spray as much as possible.
We'd also recommend you consider how supplementary items in your beauty or body routine may impact the scents found in this perfume, and consider using body lotions and shower gels which utilise scents like green tea itself, orange zest or orange peel, white amber, sweet jasmine, or lemon across their base or top notes, as all of these fragrances can be highly complementary to the fresh scent of green tea.
As with all perfumes, we'd recommend storing Aequill perfume in its original bottle to prevent the potential impacts of oxidisation or contamination, keeping it in a cool, dark place at all times, and avoiding shaking it or aggravating the bottle too much prior to use.
Introducing the latest in Aequill's stunning product range: our incredible Aequill brand perfumes, carefully crafted blends that are created with long lasting, uplifting fragrance in mind.

Designed and blended by our expert perfumers, Aequill perfume seeks to bring a fresh diversity to the world of scent, with stunning blends rooted in the ancient practices of aromatherapy. All of our fragrances are 100% custom blends, meaning our scents are totally unique to us - and their benefits are totally unique to you, our wonderful customers.
All Aequill perfumes aim to deliver on the same key tenets: a balanced fragrance experience to make them easy to wear, the highest quality ingredients to create lasting scent, and innovative blends that seek to diversify the current offering within the perfume and scent industry.
There are currently three stunning options of our brand new Aequill perfume available: green tea, woody, and mimosa. Which of these incredibly versatile scents will be your new favourite?